Image Page on Italy
Include pictures, and at least one panorama image, and a webcam image from two different times.
---
Outline
<![if !supportLists]>1. <![endif]>Landscapes
<![if !supportLists]>o <![endif]>Piemonte Vineyard
<![if !supportLists]>o <![endif]>Amalfi Coast
<![if !supportLists]>o <![endif]>Dolomite Mountains
<![if !supportLists]>o <![endif]>Maremma Sunflower Field
<![if !supportLists]>2. <![endif]>Cities
<![if !supportLists]>o <![endif]>Venice
<![if !supportLists]>o <![endif]>Rome
<![if !supportLists]>o <![endif]>Milan
<![if !supportLists]>o <![endif]>Florence
<![if !supportLists]>3. <![endif]>Landmarks
<![if !supportLists]>o <![endif]>Colosseum
<![if !supportLists]>o <![endif]>Tower of Pisa
<![if !supportLists]>o <![endif]>Pantheon
<![if !supportLists]>o <![endif]>St. Mark's Basilica
<![if !supportLists]>4. <![endif]>Images of People
<![if !supportLists]>o <![endif]>Soccer fans
<![if !supportLists]>o <![endif]>Venetian Carnival
<![if !supportLists]>o <![endif]>Grape farmer
<![if !supportLists]>o <![endif]>Sidewalk Cafe
<![if !supportLists]>5. <![endif]>Images from the book
<![if !supportLists]>o <![endif]>Cinque Terre (Lonely Planet)
<![if !supportLists]>o <![endif]>Trevi Fountain (Lonely Planet)
---
1 Landscapes
<![if !vml]>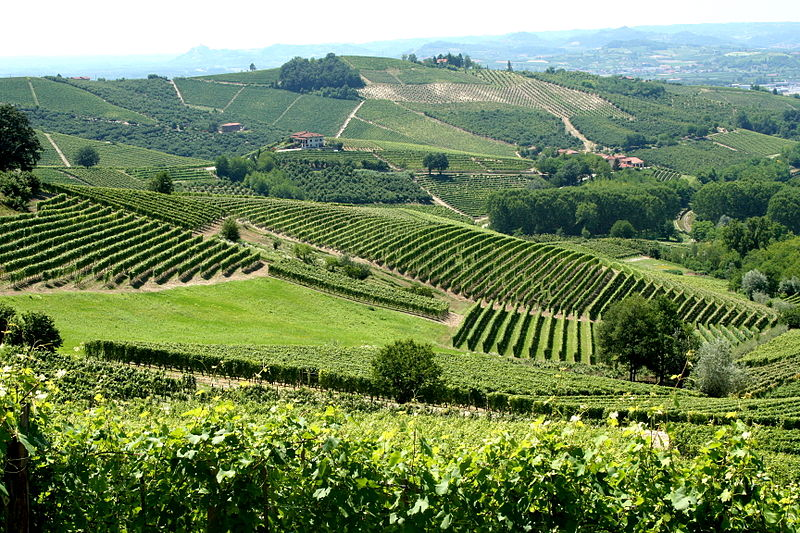 <![endif]>
Figure 1.1  A vineyard in Piemonte is lush with green vines during the summer.  The Piemonte is one of Italy's 20 wine growing regions.  It is located on the northern end of the country and borders both France (to the west) and Switzerland (to the north).  The name "Piemonte" comes from medieval Latin and translates to "at the foot of the mountains".  The nearby Alps are what gives Piemonte its rolling landscape features. http://geography.parkfieldprimary.com/the-european-union/italy/landscape-of-italy
<![if !vml]>

<![endif]>
Figure 1.2  The town of Amalfi is built onto the cliffs on part of Italy's Amalfi Coast.  Even this panoramic photograph, taken from a pier, is unable to capture all of the landscape mixed with structures. The warm waters of the Mediterranean Sea make this coast an extremely popular destination from tourists all over the world.  In 1997, the Amalfi Coast was listed as a UNESCO World Heritage Site. https://en.wikipedia.org/wiki/Amalfi_Coast#/media/File:Amalfi_panorama_I.jpg
<![if !vml]>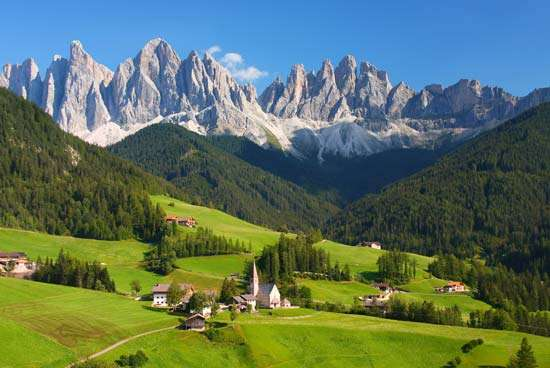 <![endif]>
Figure 1.3  The Dolomites are an Italian mountain group located in the eastern section of the northern Italian Alps.  This impressive stretch of mountains includes a total of eighteen peaks that reach a height of over 10,000 feet.  They are made from a lightly colored limestone that, due to erosion, has been carved into the sharp and jagged shapes that they resemble today.  In 1963 a dam in these mountains gave way and drowned the town of Longarone, resulting in the deaths of over 2,500 people.  https://www.britannica.com/place/Dolomites/media/168360/234431
<![if !vml]>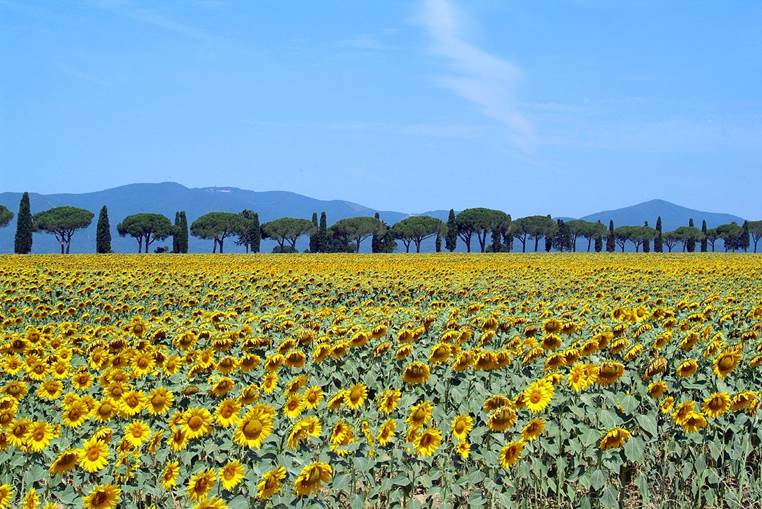 <![endif]>
Figure 1.4  Maremma is a coastal area in the Tuscany and Lazio regions of Italy.  The sunflower field, shown here, was once a marshland.  It has had to be drained several times throughout history.  The most recent occurrence coming from the order of Mussolini in the 1930s.  The area is now used primarily for agriculture, specifically growing grapes for wine.  The balmy weather of Italy allows the growing season to extend beyond that of other agricultural regions across Europe.  https://en.wikipedia.org/wiki/Maremma#/media/File:Sunflowers_in_bloom_-_Maremma_Toscana_-_Italy_-_25_June_2005.jpg
2 Cities
<![if !vml]>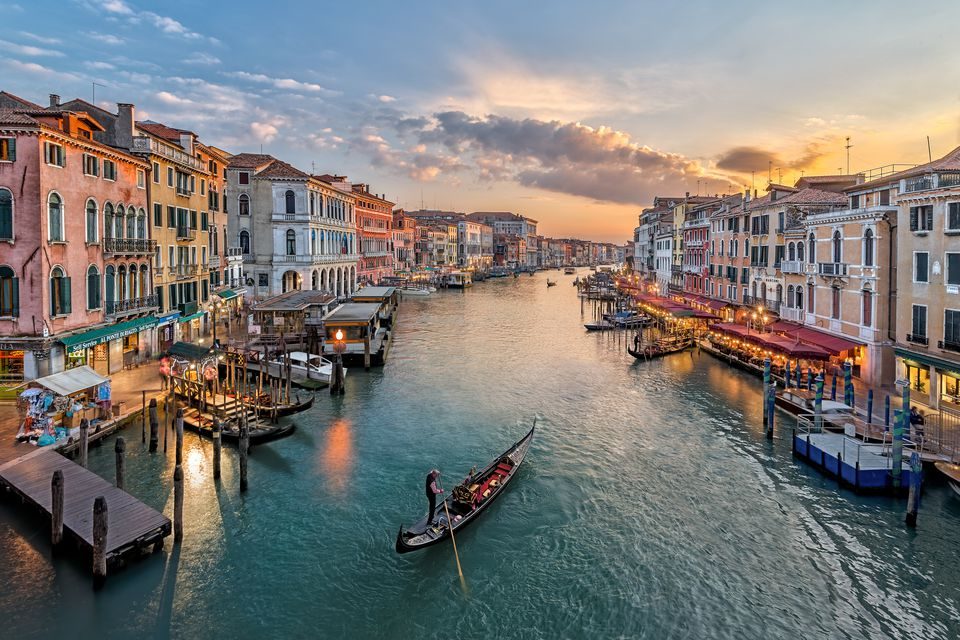 <![endif]>
Figure 2.1  Venice, Italy is one of the most famous cities in the entire world.  It is known for its canals that are used for transportation instead of streets like a normal city.  Gondolas, like the one above, are used to move people and supplies around the city.  There were once over 10,000 gondolas in Venice, but today there are only about 500 and they are mostly used as tourist activities.  https://www.tripsavvy.com/gondola-rides-in-venice-1548042
<![if !vml]>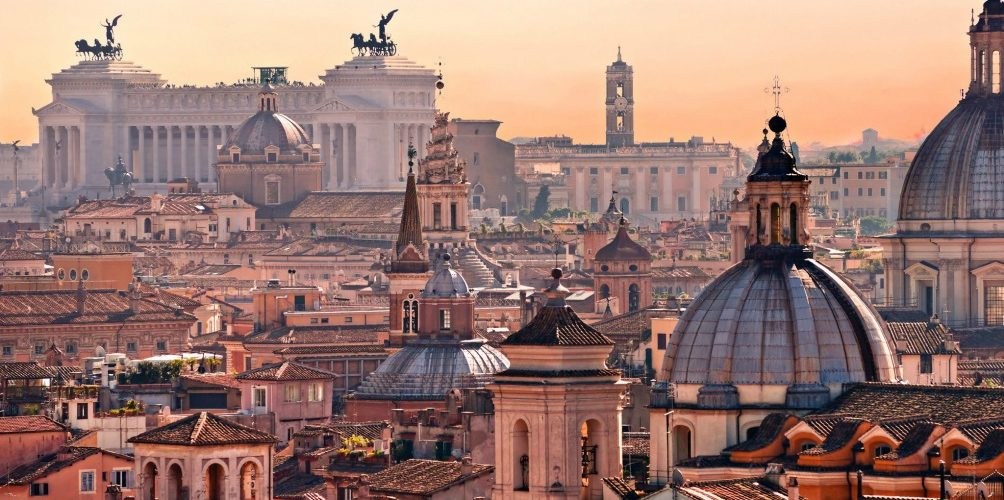 <![endif]>
Figure 2.2  Rome, the capitol city of Italy, is sometimes viewed as the most important city in terms of world history.  Being one of the oldest continuously occupied cities in Europe, it's safe to say that Rome wasn't built in a day.  The skyline of Rome reveals buildings and churches that, in many cases, are over 1000 years old.  A city as unique and as old as this one has more than enough attractions to keep people entertained for extended periods of time.  https://www.snapitaly.it/en/skyline-of-rome/
<![if !vml]>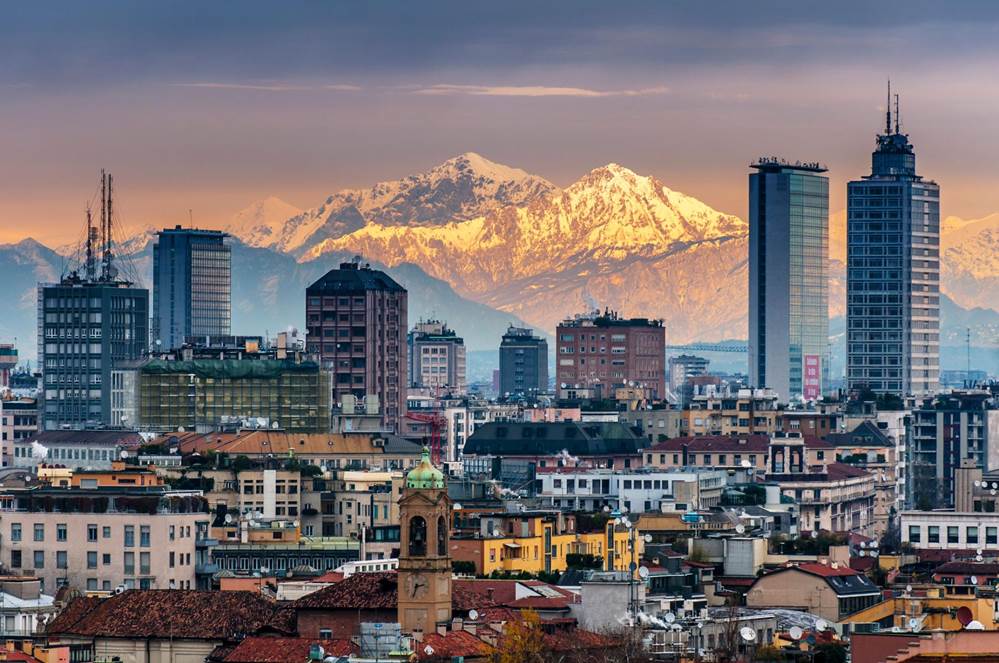 <![endif]>
Figure 2.3  Milan is the capital of the Lombardy region of Italy.  Milan is the center of many financial businesses.  This gives its skyline a unique look with a combination of modern skyscrapers and ancient structures. It is the biggest industrial city of Italy with many different industrial sectors as manufacturing of textiles and garments, car manufactory, chemistry, mechanical tools and heavy machinery.  It is also considered as one of the fashion capitols of the world.  They have extravagant fashion shows year-round with famous designers and models. https://www.nationalgeographic.com/travel/destinations/europe/italy/milan/top-activities-things-to-do/
<![if !vml]>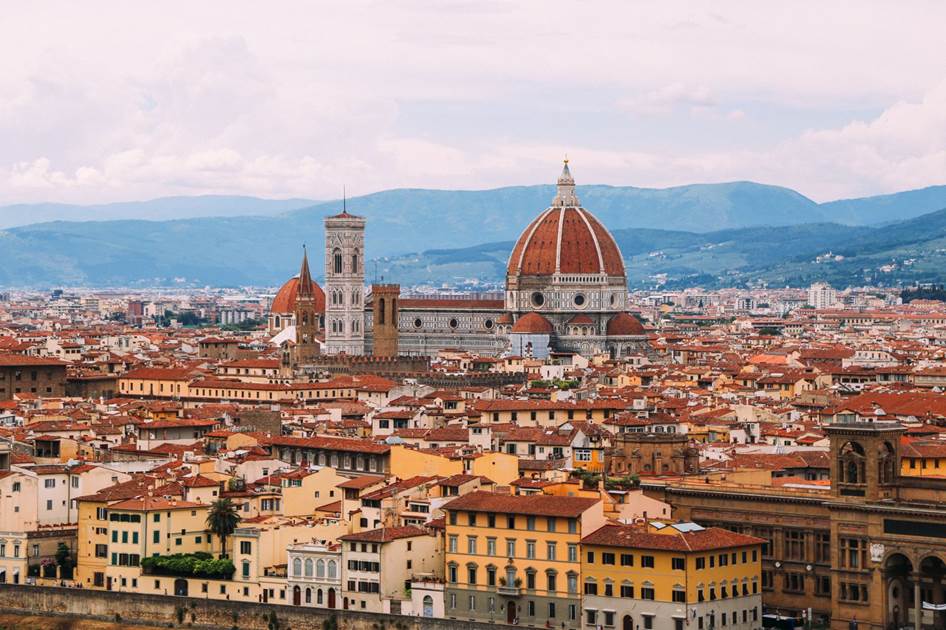 <![endif]>
Figure 2.4  Located about 145 miles northwest of Rome is Florence. Among the most famous of the city's cultural giants are Leonardo da Vinci, Michelangelo, Dante, Machiavelli, Galileo, and its most-renowned rulers, generations of the Medici family.  Even the Renaissance Period originated in this city.  This would explain why it is often described as one of the most art-filled cities in the world.  The influence of some of the greatest artists in the history of mankind doesn't just go away without leaving a permanent mark on their city.  This is just one of the many factors that make Florence different from anywhere else in the world.   https://handluggageonly.co.uk/2017/01/12/the-return-florence-italy/
3 Landmarks
<![if !vml]>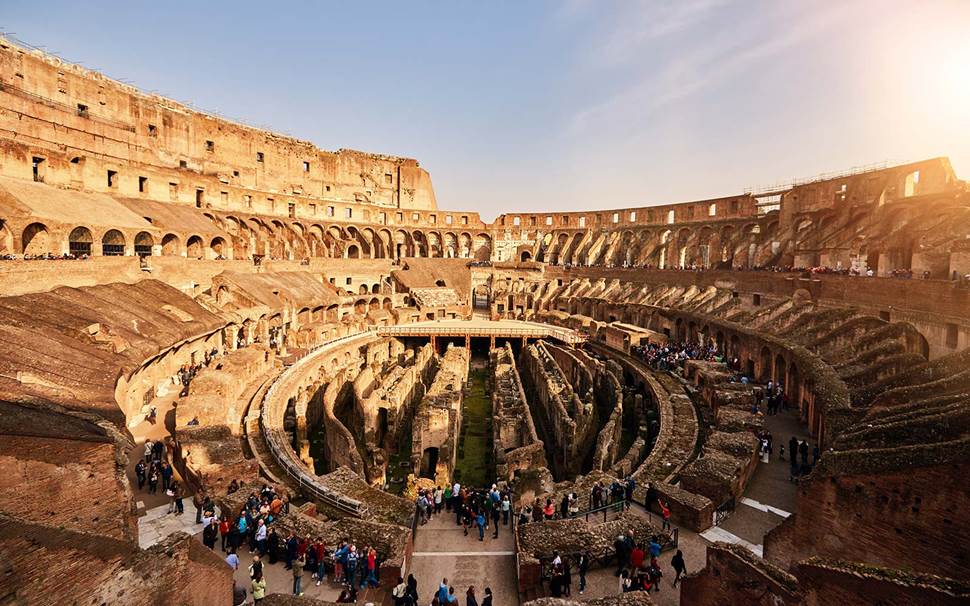 <![endif]>
Figure 3.1 Tourists take in the awe that is the Roman Colosseum.  The site of inspiration for many action movies, it is thought that over 500,000 people lost their lives and over a million wild animals were killed throughout the duration of the Colosseum.  At its height, it could hold up to 50,000 spectators and had entrances.  Those are better numbers than many of the modern stadiums that are built around the world today.    https://www.travelandleisure.com/travel-tips/colosseum-secrets
<![if !vml]>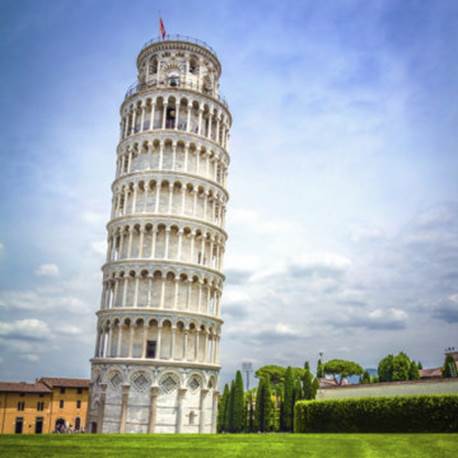 <![endif]>
Figure 3.2  A real life optical illusion, the Leaning Tower of Pisa, is one of Italy's top tourist attractions.  The original completed height of the Tower of Pisa is 60 meters. Actually the tower's height is 56.67m on the highest side and 55,86m on the lowest side.  The tower started to lean during construction because the foundation was built on soft ground that had difficulty supporting the weight. The lean became worse as construction continued for several decades.  The entire town was built on top of a marsh so there are actually several other buildings nearby that also lean to one side. https://www.sciencedaily.com/releases/2018/05/180509105004.htm
<![if !vml]>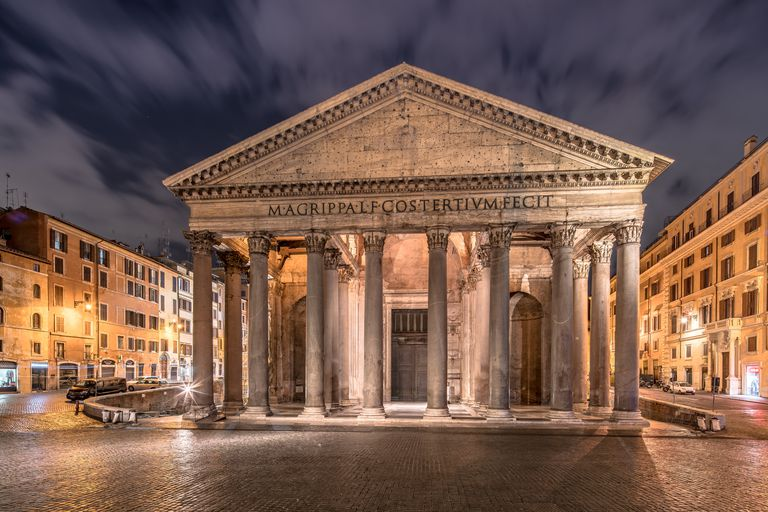 <![endif]>
Figure 3.3  The Pantheon of Rome was the world's largest brick dome for over 1000 years between the year 128–1436 AD.  The one pictured, that stands today, is actually the third Pantheon to be built.  The first two Pantheons burned down in fires.  If you haven't seen it before but it looks familiar, it's because there are many famous monuments all over the world modeled after the Pantheon in Rome such as: the US Capitol Building, the Pantheon in Paris, Santa Maria del fiore in Florence and the Jefferson Memorial in Washington D.C.   https://www.thoughtco.com/pantheon-in-rome-history-and-architecture-249498
<![if !vml]>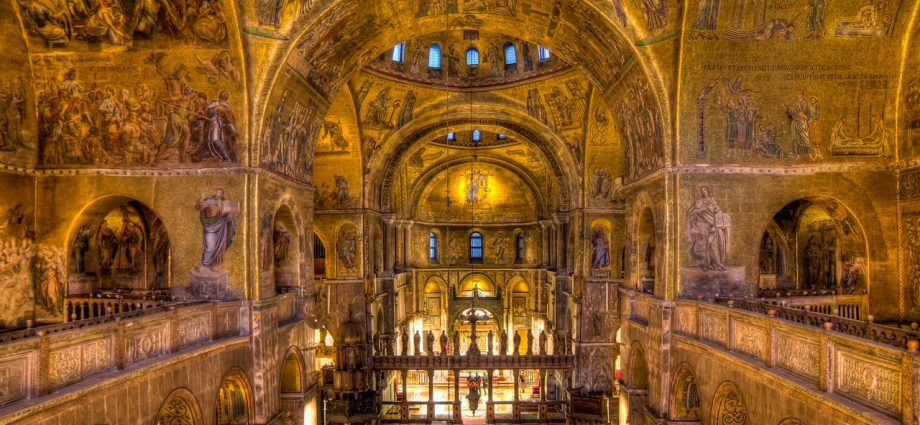 <![endif]>
Figure 3.4 St. Mark's Basilica stands as one of the most visited tourist destinations in Venice.  It is named for St. Mark the Evangelist, one of the four Apostles of Jesus.  His body was stored here and actually stolen during the 9th century.  The story then goes on to say that the graverobbers went on to almost die at sea while they were transporting his body, but he appeared to the captain and led them to safety.  The story of this ordeal can now be found on part of the ceiling in the form of a mosaic.  There are more than 85,000 square feet of mosaic in St. Mark's Basilica.    http://icb.ifcm.net/en_US/divided-choirs-myth-or-reality/
4 Images of People
<![if !vml]>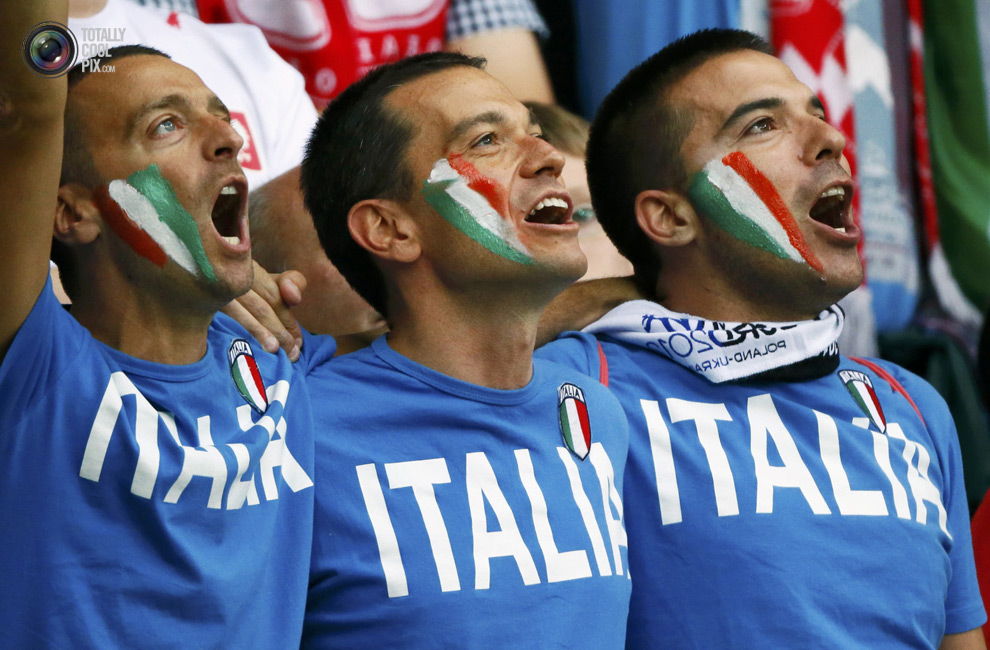 <![endif]>
Figure 4.1  Three Italian soccer fans cheer on their home country in an international match.  Europe is filled with many countries that are passionate about soccer, and Italy is no exception. Soccer is by far the most popular sport in Italy: more than 4,363,000 people play every year. The culture and history of Italian soccer traces back hundreds of years.  Italy has won the World Cup four times; the most recent being in 2006.  That is the second most of any country, trailing to only to Brazil's five World Cup Championships.    http://www.dreams.metroeve.com/italian-people/#.XKZMvFVKjcs
<![if !vml]>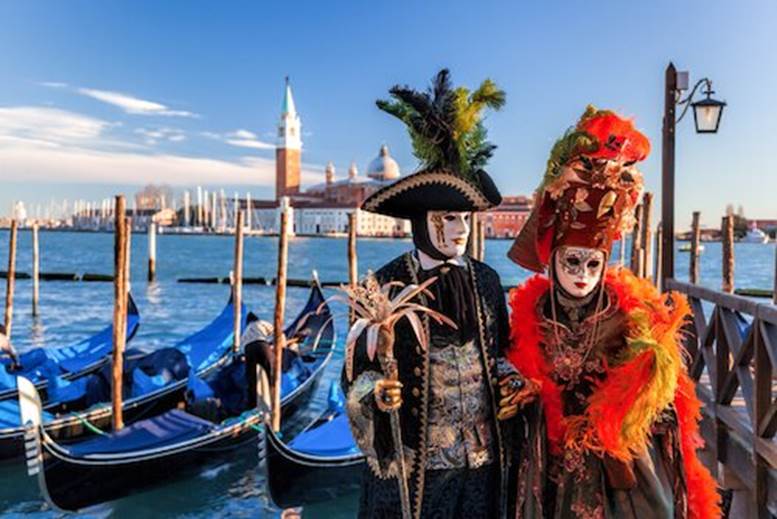 <![endif]>
Figure 4.2  A Traditional Carnival in Venice draws in people with amazing costumes.  Originating back in 12th century, the Carnevale di Venezia is one of the most famous carnivals around the world.  The famous author, Casanova, made the carnival famous during the 18th century.  On the last Sunday and last Tuesday of carnival, a big wooden stage hosts the award ceremony of the best masked costume, which is elected after several parades that take place during the central days of the festival.  https://www.kids-world-travel-guide.com/images/xitaly_venice_carnivale-2.jpg.pagespeed.ic.R0dGjggB4T.jpg
<![if !vml]>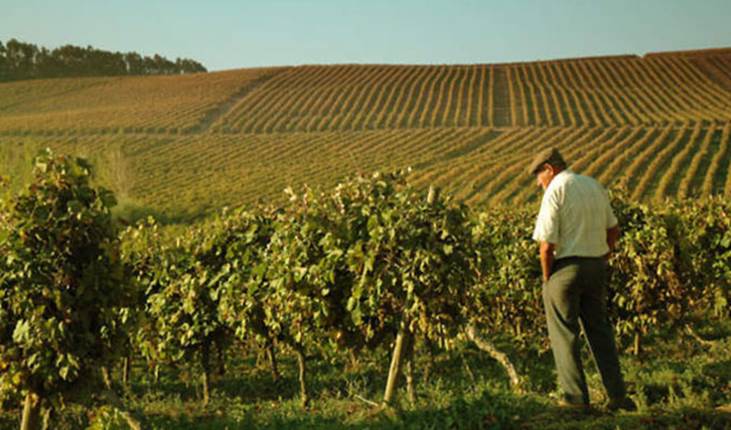 <![endif]>
Figure 4.3  An Italian vineyard farmer inspects his crop out in one of his fields.  Much like trying to grow any kind of crop, growing grapes takes a lot of hard work and dedication.  This has become so popular and profitable that it is now hard to go anywhere in the Italian countryside without seeing a vineyard.  Anyone can go visit these wineries during simple day trips that don't require you to travel to far out of the city.  It only makes sense that a country that likes wine so much, grows the very fruit that is required to make it.    https://s3.amazonaws.com/winecountry-media/wp-content/uploads/sites/5/2016/04/23234915/mondovino.jpg
<![if !vml]>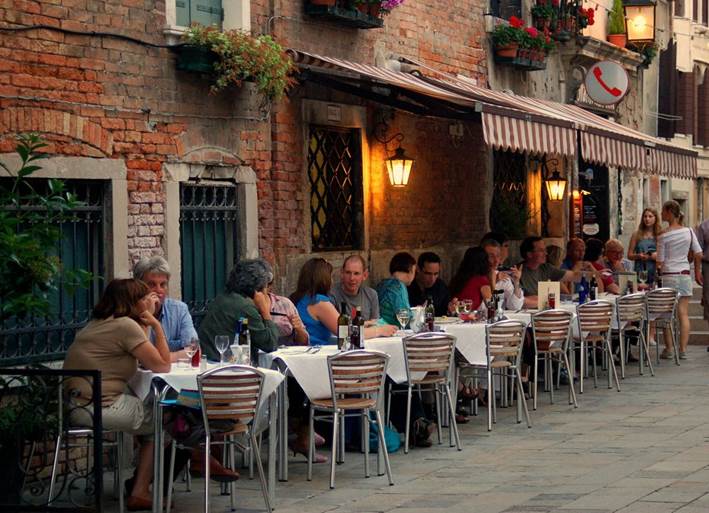 <![endif]>
Figure 4.4  An Italian sidewalk café in Venice.  Italy is well known for having cities with an abundance of welcoming sidewalk cafes.  It is very much part of their history and culture.  I find it fitting that every table pictured here has at least one glass of wine waiting to be poured again.  Sidewalk cafes make a sidewalk something that is for much more than just walking.  It can also be a place to relax, grab a bite to eat, and enjoy the company of a friend or significant other.  https://i.pinimg.com/originals/b8/2f/78/b82f7813294a94574b54ff606bdb6bce.jpg
5 Images from the Book
<![if !vml]>
<![endif]>
Figure 5.1  Cinque Terre is home to five fishing villages, according to Lonely Planet.  The best way to reach them is by a train out of Genoa, Pisa, or Rome.  You can drive there, but they warn against it due to the steep and dangerous roads you have to drive on if you wish to arrive by car.  Arriving by sea is also an option. From Easter to September, ferries run from Genoa, Portofino and Porto Venere. And if you want to make a glamorous entrance you can even hire a yacht from one of those ports.
<![if !vml]>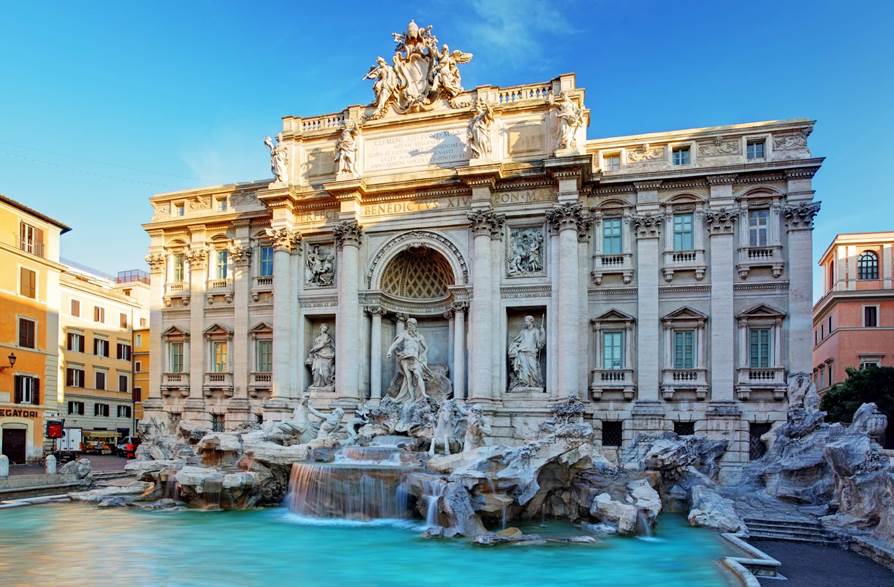 <![endif]>
Figure 5.2  Lonely Planet refers to the Trevi Fountain as one of Rome's most spectacular fountains.  Approximately 3000 euros are tossed into the fountain every day!  It is said that tossing a coin into the fountain will bring you good luck.  Designed in 1732, it stands 26 meters high and is ornately sculpted out of white marble.  It depicts the sea god Oceanusbeing led by two seahorses that each represent a mood of the ocean.
---
Submitted by your Dan Pavlik on 4/4/19.